GIL
SCOTT-HERON
Revolutionary man of peace
music
Gil Scott-Heron was a poet, author, composer and recording artist. His spoken word over driving beats — humor-laced, sharp critiques of politics, racism and mass media — made him a global voice of protest for decades.
Book
The stunning memoir of Grammy Lifetime Achievement Award winner Gil Scott-Heron, The Last Holiday has been praised for bringing back to life one of the most important voices of the last fifty years.
GIl's Legacy
Thank you for visiting gilscottherononline.com. We have recently updated this official website that pays tribute to Gil Scott-Heron, one of the most influential writers and musicians of our time.  Please browse this page for information on how Gil's music is being used in movies, documentaries, advertisements and more as we continue to promote and protect his legacy. You can also select icons to see recent postings that acknowledge the timelessness of Gil's words, hear his voice, and share your thoughts with us.
We value each one of you and the role you play in keeping Gil's legacy alive. If you take steps to promote justice and peace in the world, you also will be honoring Gil's life. Thank you.  If you wish to license Gil's music, make use of portions of his books, or involve us in any tributes, etc., please use the contact icon to reach me.
Rumal Rackley,
Gil Scott-Heron's son and administrator, The Estate of Gil Scott-Heron
GIl's Life
Gil Scott-Heron was born on April 1, 1949 in Chicago, Illinois, to Gil and Bobbie Heron. As he explains in his memoir, The Last Holiday, and on his last album, "I'm New Here," his parents divorced early in his life. When he was 18 months old, he was "moved in" with his grandmother, Lily Scott, in Jackson, TN.
In countless interviews and written material, Gil talks of his deep love for Lily Scott, with whom he lived until her death in 1961, when Gil was 12 years old. Gil's mother, Bobbie, returned to her mother's house in Jackson and took a job at nearby Lane College. And, together, she and Gil agreed that he would be among the students integrating the all-white junior high school in Jackson. A year later, they moved to New York City – a place Gil returned to as home, along with Washington, DC, where he began his career, for the rest of his life.
When he died on May 27, 2011, he had achieved an eclectic fan base that spanned the globe, and had published two novels and several books of poetry. He also had completed his memoir, which was released by his publisher posthumously in January 2012. In February 2012, Gil received a Grammy Lifetime Achievement Award, which was accepted by his four children: son, Rumal Rackley, and daughters Nia Kelly, Gia Scott-Heron, and Chegianna Newton. Two years later, he was inducted into the Grammy Hall of Fame for The Revolution Will Not Be Televised.
Gil was predeceased by his parents. His mother, Bobbie, died in 1999. Gil met his father when Gil was 26 years old, he says in his song "Hello Sunday, Hello Road." At the same time, he met his siblings, Gail, Denis and Kenny. Kenny died in 2000, Gil Heron Sr. died in 2008, and Denis died at the end of 2014.
Sampled by the world's leading artists, his legacy and influence transcends generations.
For several generations, Gil's work has and continues to influence popular culture and media.
Another well-deserved honor! Thank you, Rock & Roll Hall of Fame, for recognizing Gil Scott-Heron's impact.
Poet, novelist, scholar and musician Gil Scott-Heron was many things during his prolific career but above all, in the words of music critic Nelson George, "he was a teller of uncomfortable truths." Scott-Heron's career path was unconventional, mirroring his nonconformist approach to music. His debut album, the spoken-word classic Small Talk at 125th and Lenox (1970), celebrated Scott-Heron's varied influences: from John Coltrane to Langston Hughes, Otis Redding to Malcolm X, Billie Holiday to the Last Poets. Scott-Heron channeled these influences with his fusion of jazz, blues, soul, and funk, challenging the status quo with biting satire, unapologetic social commentary, and confrontational poetry.

"The Revolution Will Not Be Televised," Gil Scott-Heron's debut 1970 single, cautioned listeners to question the power of mass media. The track's spoken-word storytelling backed with a sparse percussive arrangement drew on jazz, blues, and the poets of the Harlem Renaissance. It has been cited as a foundational influence on contemporary hip-hop culture and remains a call to action for the Black Lives Matter movement.
Questlove-Directed 'Summer Of Soul' Doc Shares New Trailer Ahead Of July Release Date
While serving as the DJ for the 2021 Academy Awards broadcast on Sunday (and taking home a statue of his own), Questlove further multitasked by letting viewers watch the new trailer for Summer of Soul, due to hit theaters and Hulu on July 2nd via Searchlight Pictures. Initially titled Black Woodstock, the film, which debuted earlier this year at Sundance Film Festival and earned both the Audience and Grand Jury Prizes, chronicles the largely forgotten Harlem Cultural Festival of 1969—the same summer that the famed Woodstock took place just a couple hours north of NYC.

As on-screen titles explain in the new clip, mixed in with audio of Gil Scott-Heron performing "The Revolution Will Not Be Televised" and video snippets of Harlem Cultural Festival performances by Nina Simone, Sly & The Family Stone, Gladys Knight & The Pips, Mahalia Jackson, Stevie Wonder, B.B. King, and more, "In 1969, the same summer as Woodstock, another festival took place. It was filmed but never seen. Until now. … To re-write history—to right history: Summer of Soul (…Or, When The Revolution Could Not Be Televised)." Watch the new teaser trailer for the Questlove-directed Summer of Soul documentary below.
Happy Birthday, Gil Scott-Heron 2021!
This April 1st will mark the 10th anniversary of the last birthday my pops, Gil Scott-Heron, celebrated in this life. He died a little less than two months later, on May 27, 2011. But I have felt his presence with me every day since, more intensely on the days I needed him most.

On this milestone anniversary of his journey into the spirit world, I'm sending a Happy Birthday shout-out to my pops, one of the most profound and prescient men I've ever known. When I re-listen to his performances, re-read his private letters, or come across interviews he granted over the years, I hear something new each time: A new twist to one of the quadruple — not double — entendre lines he used to lay out there that most of us would catch several beats later, if at all.

Here is a photo taken of Gil at Dakota's Jazz Club in downtown Minneapolis in April 2010, before the pain of various illnesses sidelined his travel by spring 2011. I have others that show him signing autographs and extending himself in friendship to the audience at the club, as he did most often. Over the years, so many people have told me how kind he was to them, how special he made them feel. That was his way. He appreciated people and wanted to make a difference in their lives.

He certainly made an amazing difference in ours.

Happy Birthday Gil-

RR
Gil Scott-Heron: Lovecraft Country
Photo Credit: AUNJANUE ELLIS | ELIZABETH MORRIS/HBO

The highly promoted series "Lovecraft Country" premiered Aug 16th on HBO. We are very pleased that Gil's "Whitey on the Moon" is included in the second episode airing Aug 23rd. Of course Gil's music remains extraordinarily relevant for the times.

Five stars on a scale with 5 as highest! Great premiere episode. Check it out if you missed it so you won't be lost when you see the second episode Aug 23rd.

Read more here.

Rumal
In light of the recent resurgence of the movement for justice and equality for black people, and the focus on police brutality, we offer you three of the numerous pieces Gil wrote about these issues. Also find Gil explaining what he meant by The Revolution Will Not Be Televised. (Recordings: 95 South; No Knock; and The Revolution Will Not Be Televised.)

Rumal
To fans of Gil's music: Check out the two links below. The first takes you to the documentary "Who Is Gil Scott-Heron," which was re-released in February 2020 to coincide with release of the 10th anniversary edition of "I'm New Here," featuring bonus tracks. The second link is to an Apple-TV promo for an episode of Octavia Spencer's "Truth Be Told," featuring Gil's powerful rendition of "Me and the Devil." All this takes us into April 1, when we will celebrate the 71st anniversary of Gil's birth. Happy Birthday, pops!

Rumal
Gil Scott-Heron: A Black History contributor and champion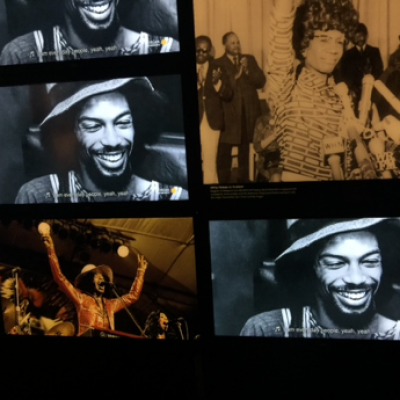 While Gil championed and made black history throughout each year, he still paid particular attention to the celebration of February as Black History Month. Jokes about us getting the shortest month aside, Gil took special care to schedule and accept performances in February, some gratis, to highlight the contributions of our heroes and heroines.

Among the ones he talked about most often was freedom fighter Fannie Lou Hamer, a woman for whom he held great respect. It was, therefore, poignant and beautiful that five years after Gil's death, Gil Scott-Heron and Fannie Lou Hamer were the two historical figures whose names graced the two performance stages on the National Mall during the official opening ceremony of the National Museum of African American History and Culture in September 2016. The museum also includes Gil in its exhibits featuring artists/musicians who made outstanding contributions to our history and culture.

It is also fitting that February 2020 is the month that a new album is being released, a tribute to Gil's work by jazz artist Makaya McCraven (visit https://xlrecordings.com/). "We're New Again" reimagines "I'm New Here," on the 10thanniversary of this last of Gil's albums with XL while he was alive. XL subsequently released "Nothing New," a stripped-down version of Gil playing piano and singing some of his earlier material. And XL is set to re-release "I'm New Here" with bonus tracks.

The year 2020 also marks the 50th anniversary of Gil's first release, an album of poetry, "Small Talk at 125th and Lenox." Stay tuned as we seek to highlight the ways in which his prophetic words and works remain influential now and for the foreseeable future. And pick up a copy of Gil's memoir, The Last Holiday, a tribute to Stevie Wonder's role in the movement to make Dr. Martin Luther King's birthday a national holiday. Gil was among those working with Stevie in the Hotter Than July tour that elevated attention to the cause and helped overcome political resistance.

As always, we are willing and open to working with you on licensing and other necessary permissions if you have ideas for promoting Gil's work through education, tributes, etc. Thank you.

Rumal Rackley, administrator, the Estate of Gil Scott-Heron
Spirits Vinyl release July 5th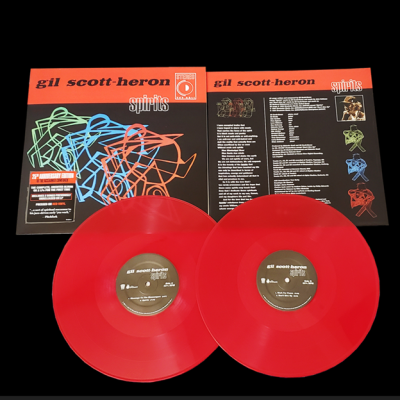 I hope you have a great Holiday weekend. I wanted to let you know about the vinyl release of "Spirits".

Available July 5th, 2019 – 25th Anniversary Edition of "Spirits"  – the complete, unedited album on double LP for the first time –  pressed on red vinyl!"

You can check it out here.

Thank you.

Rumal Rackley Administrator/Estate of Gil Scott-Heron
Gil Scott-Heron's 70th birthday April 1, 2019
My pops would have turned 70 this 2019 year on Earth, and even though he's now with us in spirit only, his April 1st birthday still deserves a celebration. Thanks to all who are paying tribute.

He liked goofy cards with corny jokes, and when I come across such cards, I pause for a moment remembering how much I enjoyed sending them to him. A poet and self-described "bluesologist," Gil Scott-Heron also was a natural comedian. Sometimes his clever turn of phrase sailed right over people's heads – until they caught the joke a minute or so later and couldn't stop laughing. Check out his political dynamite laced with humor on H2O-Gate (Watergate) Blues … ("If Nixon knew, Ag-new, but Ag didn't 'knew' enough to stay out of jail.")

If only we could get his take on what's going on now in Washington, D.C.! No one can synthesize it like he could.

We miss you. Miss your humor and insight. Miss your dedication to the quest for justice and peace. Happy 70th birthday, Gil Scott-Heron.

Rumal
Gil Scott-Heron selected for the National Recording Registry.
Gil Scott-Heron, "The Revolution Will Not Be Televised" (1970)
This classic example of street poetry, which foreshadowed the politically charged rap that would emerge more than a decade later, first appeared on Scott-Heron's 1970 debut album, Small Talk at 125th and Lenox. Scott-Heron recorded the piece again, with a full band, for his 1971 album Pieces of a Man. Selected for the 2005 registry.

Read more Here
Gil was inspirational to my cousin Jodie as you will see in this link.
"Beacons" graces the Bronx subway station
Hello and Happy New Year! I am pleased to open the year with the news that Gil Scott-Heron is among eight well-known achievers showcased in a dramatic work of art"Beacons" that graces a Bronx subway station wall (167 Street stop). The work was quietly unveiled on the evening of Wednesday, Jan. 9th 2019.

This phenomenal work pays tribute to men and women who had/have a connection to the Bronx. (Gil attended Fieldston, a private school in the Bronx, and includes memories of his time there in "The Last Holiday," his memoir.)

Congratulations to Rico Gatson for this concept.

Read more here
Friends and supporters of Gil Scott-Heron's legacy,
From a mention of Gil's name in the season finale of "Queen Sugar" in August 2018 to a mention of his name and use of "Your Daddy Loves You" in the recent "S.W.A.T." episode 118 on CBS, visibility continues to grow steadily.

Keep an ear out for "Whitey on the Moon" in the movie "First Man," in theaters soon; and "Home Is Where the Hatred Is" in the FX acclaimed show "Snowfall," in the episode airing on Sept. 20, 2018.

Visit this site often for updates in the months ahead.

 

— Gil's son, Rumal Rackley
A messenger with a timeless message
It's been seven years now since Gil Scott-Heron died on May 27, 2011. Still, a lot of grief remains but the overriding feeling is one of gratitude that he loved us and left the world with a treasure-trove of insightful commentary through music and literature.

 

My promise to him – then and now — is to do all I can to protect and promote his legacy so that his brilliance may never be forgotten. I want to work with people who cared about him to carry on his mission to make the world a more just and loving place – and to take the best of him with us on our journey.

 

So many people in the entertainment industry have recognized the power of Gil's artistic work and incorporated it in their story telling, delighting their audiences and extending his legacy for generations to come. Others who dedicate themselves to the quest for equal rights view him as an icon and promote his messages to their audiences through print and broadcast, and live events. Thank you, all.

 

Please get in touch with me if you want to be engaged with promoting and protecting the legacy of Gil Scott-Heron — a true genius who did his best to learn, to teach, to agitate and advocate for equality, to entertain, to make people laugh, and to love people wherever he went around the world.

 

— Gil's son, Rumal Rackley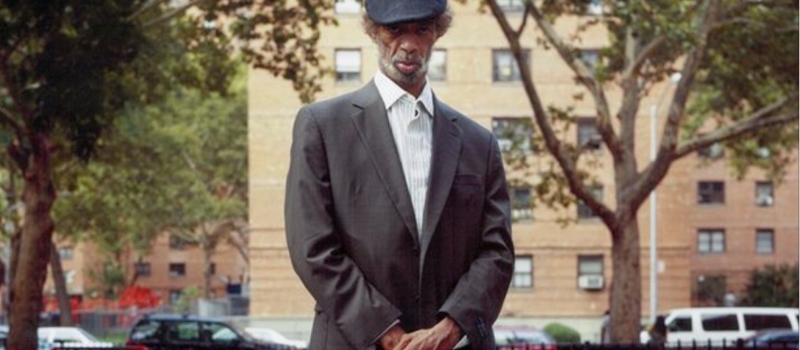 Black Panther Trailer
I am happy to share with you a trailer that uses Gil's "The Revolution Will Not Be Televised" to promote Marvel's upcoming "Black Panther" movie​. I feel certain that Gil would appreciate the symbolism inherent in this use; and the song's inclusion will introduce Gil's voice to an entirely new audience.
"I have never seen anything like this," says shadowy government agent Everett Ross (Martin Freeman) at the start of the official Black Panther trailer — and to judge from the trailer footage, Marvel's next solo superhero movie delivers on that promise.

– Yahoo News
"If you thought you were already excited about Marvel's upcoming Black Panther movie, then think again. The new Black Panther trailer has arrived alongside a new poster, and, even though the film hasn't come out yet, this trailer is enough to make it everyone's favorite Marvel movie ever. Seriously, fans are losing their minds, and you probably will too once you get a look at all this new footage."

– Bustle
Father's Day: Gil Scott-Heron's son on his father's genius
​​Reflecting on the sixth anniversary of Gil's transition to the spirit world
Gil's death on May 27, 2011 shook me to my core. Although he had been sick off and on. I did not know how sick and had not even entertained the notion that he would die any time soon. It still feels unreal, not being able to pick up the phone and call him and talk about the playoffs or what was going on in our lives. Or answer his invitations for me to join him at a club date to sell his books and CDs while he signed autographs and interacted with fans backstage. Or hear him make a joke that would fly over most everyone else's heads.

 

I don't think I've ever really grieved properly, but at the same time I am unable to wallow in sorrow, mostly because I know he is still with me. And neither of us has that in his character. While I would prefer to be able to stand beside him, to see him with my eyes, to hear him with my ears, to watch his jokes fly over people's heads, I experience his presence in many spiritual ways.

 

I know he is guiding me as I carry on the business he worked so hard to leave as his legacy.

 

As he knew it would, the prose, poetry and music Gil produced in his lifetime still command respect and attention. People want to use his artistry in their creative works, and I am proud to run his business, to do everything I can to protect and promote his intellectual property, to build his brand and continue to introduce his genius to future generations.

 

Fortunately, many of the people who value Gil's words and music and want to pay tribute to him or officially license the material find me. Unfortunately, others do not. Frequently I run across individuals or businesses that are misappropriating or misrepresenting Gil's image, life or intellectual property. Sometimes their behavior is illegal; sometimes it's merely unethical or unkind.

 

Gil fought against such actions for decades, and too often he fought alone.

 

I am carrying on for him, but I am not alone. First, he is with me. Second, many of you – family, friends, associates, and strangers alike — also genuinely want to see Gil's work recognized and compensated properly; and you are helping me in ways too vast to mention.

 

On this anniversary of his transition to the spirit world , I extend my gratitude to you on his behalf. Check in here from time to time for updates regarding placement of his music and other projects. Thank you for loving Gil Scott-Heron. Then and now.

 

Gil's son, Rumal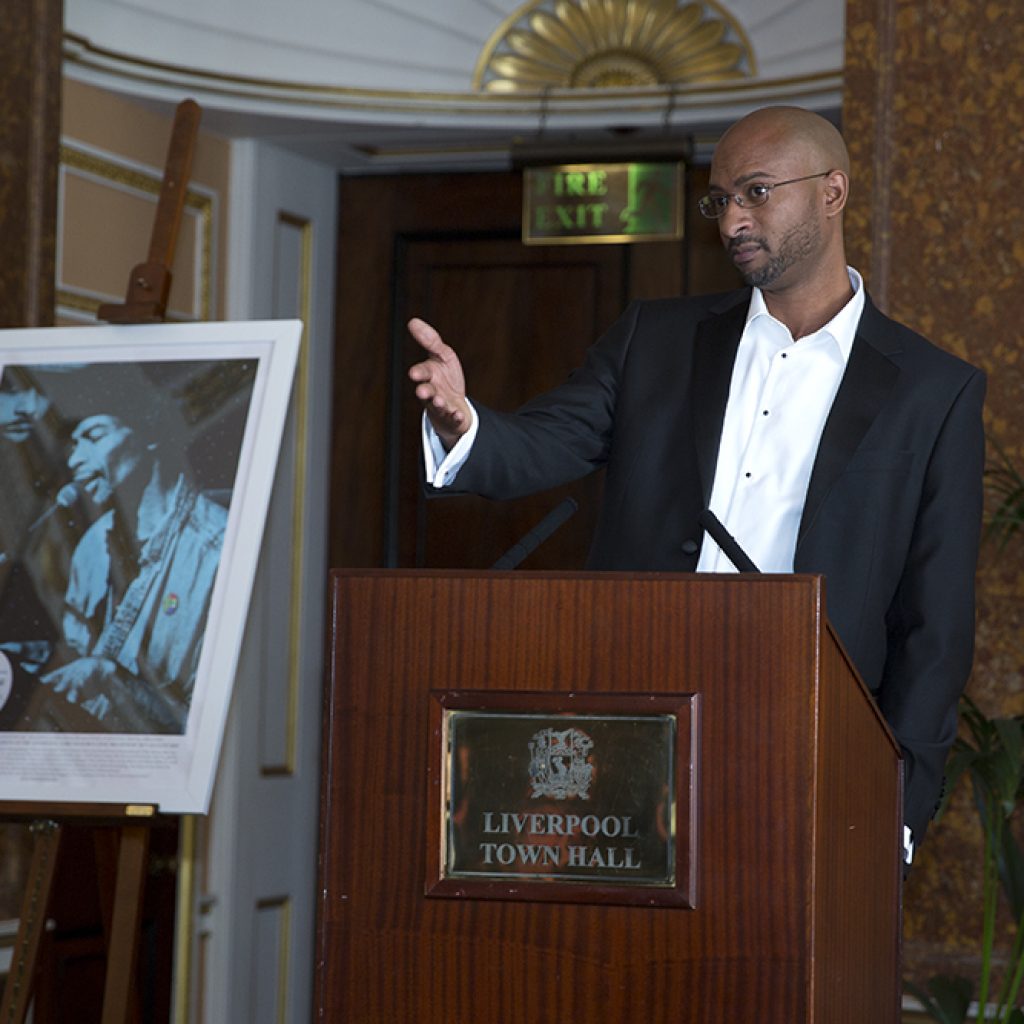 Happy Birthday Gil!
Gil Scott-Heron had a  response ready for anyone who claimed an April 1st birthdate automatically made him an "April fool."

 

"Everybody born on December 25th ain't Jesus Christ."

 

Yet, there was great symbolism in Gil being born on April 1 – a time many people devote to humor. From childhood, Gil showed a clever, quick mind that he applied to entertaining his grandmother who raised him and to writing stories in his ever-present notebook. In his late teens and for the rest of his life, Gil's creativity, laced with a powerful wit, resulted in profound poetry and prose that could sting and amuse simultaneously – words that have stood the test of time, as relevant now as they were when he wrote them.

 

For us April 1, 2017, is Gil Scott-Heron's birthday before it's anything else. We celebrate his caring spirit, amazing sense of humor, depth of understanding of the human condition, and commitment to inspiring activism to make the world a better place.

Gil transitioned to the spirits at age 62 on May 27, 2011, but we feel him with us, always.

 

Happy Birthday, Gil, from your loving family, friends and admirers!
Gil's "Running" is featured in a new Adidas ad campaign.  ​​The 60​-second ​film (​see link below) showcases NFL cornerback Marcus Peters, MLB shortstop Carlos Correa, NBA forward Justise Winslow and WNBA guard Moriah Jefferson, and promotes alphabounce. Enjoy the link below.
Adidas says: "Running" by Gil Scott-Heron, a cultural icon of individuality and disruption, mixes old with new and provides a fresh take on the sport in the campaign's film.

​​As always, let me know if you are aware of interest in licensing Gil's intellectual property. Thank you for your support in promoting Gil's legacy.
Gil Scott-Heron's voice is in the opening montage of Showtime's Homeland for the duration of Season six.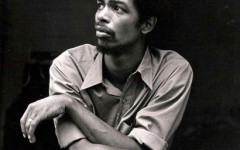 FIRST anniversary (2012)
May 27, 2012 marks the first anniversary of the death of Gil Scott-Heron. While this represents some...
Read more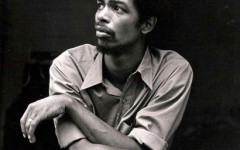 SECOND anniversary (2013)
May 27, 2013 marks the second anniversary of the death of Gil Scott-Heron. Not a day has gone by tha...
Read more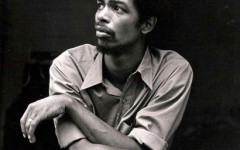 THIRD anniversary (2014)
May 27, 2014 will mark the third anniversary of Gil Scott-Heron's death. Every day we see evidence...
Read more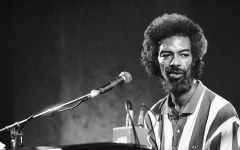 FOURTH anniversary (2015)
May 27 marks the fourth anniversary of the day Gil Scott-Heron made his transition to join the Spir...
Read more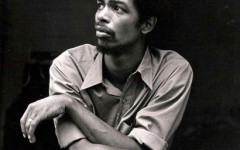 FIFTH anniversary (2016)
It's hard to believe five years have passed since Gil died on May 27, 2011, because he was such a ...
Read more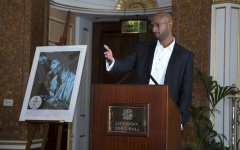 SIXTH anniversary (2017)
Gil's death on May 27, 2011 shook me to my core. Although he had been sick off and on. I did not k...
Read more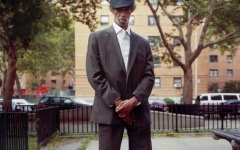 SEVENTH anniversary (2018)
A messenger with a timeless message. It's been seven years now since Gil Scott-Heron died on May...
Read more