GIL
SCOTT-HERON
Revolutionary man of peace
music
Gil Scott-Heron was a poet, author, composer and recording artist. His spoken word over driving beats — humor-laced, sharp critiques of politics, racism and mass media — made him a global voice of protest for decades.
Book
The stunning memoir of Grammy Lifetime Achievement Award winner Gil Scott-Heron, The Last Holiday has been praised for bringing back to life one of the most important voices of the last fifty years.
GIl's Legacy
Thank you for visiting gilscottherononline.com. We have recently updated this official website that pays tribute to Gil Scott-Heron, one of the most influential writers and musicians of our time.  Please browse this page for information on how Gil's music is being used in movies, documentaries, advertisements and more as we continue to promote and protect his legacy. You can also select icons to see recent postings that acknowledge the timelessness of Gil's words, hear his voice, and share your thoughts with us.
We value each one of you and the role you play in keeping Gil's legacy alive. If you take steps to promote justice and peace in the world, you also will be honoring Gil's life. Thank you.  If you wish to license Gil's music, make use of portions of his books, or involve us in any tributes, etc., please use the contact icon to reach me.
Rumal Rackley,
Gil Scott-Heron's son and administrator, The Estate of Gil Scott-Heron
GIl's Life
Gil Scott-Heron was born on April 1, 1949 in Chicago, Illinois, to Gil and Bobbie Heron. As he explains in his memoir, The Last Holiday, and on his last album, "I'm New Here," his parents divorced early in his life. When he was 18 months old, he was "moved in" with his grandmother, Lily Scott, in Jackson, TN.
In countless interviews and written material, Gil talks of his deep love for Lily Scott, with whom he lived until her death in 1961, when Gil was 12 years old. Gil's mother, Bobbie, returned to her mother's house in Jackson and took a job at nearby Lane College. And, together, she and Gil agreed that he would be among the students integrating the all-white junior high school in Jackson. A year later, they moved to New York City – a place Gil returned to as home, along with Washington, DC, where he began his career, for the rest of his life.
When he died on May 27, 2011, he had achieved an eclectic fan base that spanned the globe, and had published two novels and several books of poetry. He also had completed his memoir, which was released by his publisher posthumously in January 2012. In February 2012, Gil received a Grammy Lifetime Achievement Award, which was accepted by his four children: son, Rumal Rackley, and daughters Nia Kelly, Gia Scott-Heron, and Chegianna Newton. Two years later, he was inducted into the Grammy Hall of Fame for The Revolution Will Not Be Televised.
Gil was predeceased by his parents. His mother, Bobbie, died in 1999. Gil met his father when Gil was 26 years old, he says in his song "Hello Sunday, Hello Road." At the same time, he met his siblings, Gail, Denis and Kenny. Kenny died in 2000, Gil Heron Sr. died in 2008, and Denis died at the end of 2014.
Sampled by the world's leading artists, his legacy and influence transcends generations.
For several generations, Gil's work has and continues to influence popular culture and media.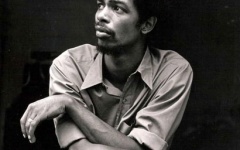 FIRST anniversary (2012)
May 27, 2012 marks the first anniversary of the death of Gil Scott-Heron. While this represents some...
Read more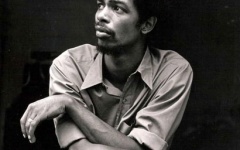 SECOND anniversary (2013)
May 27, 2013 marks the second anniversary of the death of Gil Scott-Heron. Not a day has gone by tha...
Read more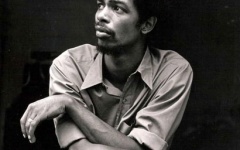 THIRD anniversary (2014)
May 27, 2014 will mark the third anniversary of Gil Scott-Heron's death. Every day we see evidence...
Read more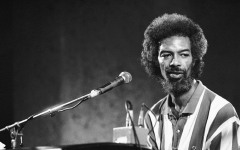 FOURTH anniversary (2015)
May 27 marks the fourth anniversary of the day Gil Scott-Heron made his transition to join the Spir...
Read more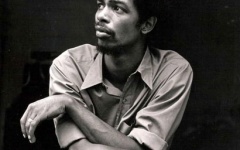 FIFTH anniversary (2016)
It's hard to believe five years have passed since Gil died on May 27, 2011, because he was such a ...
Read more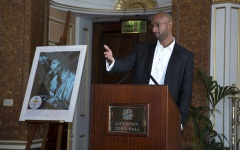 SIXTH anniversary (2017)
Gil's death on May 27, 2011 shook me to my core. Although he had been sick off and on. I did not k...
Read more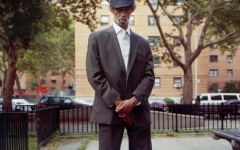 SEVENTH anniversary (2018)
A messenger with a timeless message. It's been seven years now since Gil Scott-Heron died on May...
Read more